We call upon the Irish Government to
#stopCETA
!
CETA could devastate efforts to enact progressive legislation on housing, health, labour, env & climate.

is not obliged to ratify CETA and there is no compelling rationale in favour of doing so!

https://www.businesspost.ie/legal/comment-ceta-offers-us-the-hand-rolled-cigarette-of-international-investment-law-9496e81f

The trade related chapters of CETA were ratified by the European Parliament in 2017.

The investment chapter of CETA [allowing companies to sue countries] will only come into effect if the agreement is ratified by all 27 EU member states - including Ireland.
The ratification of CETA (i.e. the investment chapters of the agreement) could enable corporations to try to sue governments under a special "Investor Court System" (ICS) - a mechanism that would bypass our own domestic and EU Courts.
Canadian companies, or companies with

subsidiaries (i.e. *many* US companies), could try to sue

through CETA's ICS mechanism for changes in our housing, health, labour, environmental & climate legislation - on the grounds that it might impact their future profits.
In other words, if CETA were ratified, the Irish Government might not pass progressive legislation on climate change, workers' rights, health care or social protection for fear of being sued.

What might this mean in practice?
#Housing
: As noted in
@sli_eile_
webinar,

's biggest landlord is

company, "Irish Residential Properties Reit" (IRES)
If

were to enact legislation which could impact landlords (eg laws to prevent rent

), IRES could try to sue

for compensation
#Health
: Colombia declared a $$ cancer drug a "medicine of public interest" in an effort to

costs of the

Novartis, who held a monopoly over the

threatened to sue

in an arbitration investment tribunal.

dropped plans to break up their monopoly.
https://www.foei.org/wp-content/uploads/2019/06/foe-red-carpet-courts-FINAL-WEB.pdf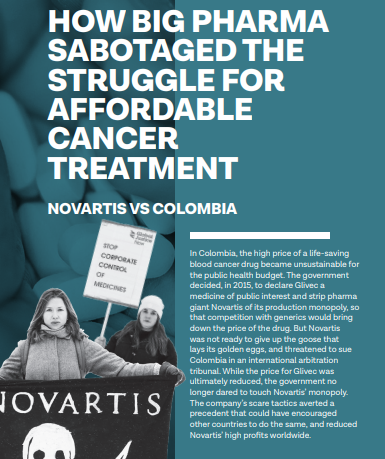 #Environment
: many Canadian companies are already mining or prospecting for minerals in Connemara and Co. Clare.
Mining has devastating impacts on wildlife & public health. If CETA is ratified, the Irish govt may not intervene for fear of an expensive lawsuit.
What about EU law?

In 2019, the Court of Justice of the EU published an opinion confirming that CETA is compatible with a very narrow aspect of EU law.

However, the govt must look beyond what is legal to what is clearly desirable. There is nothing desirable about ICS!
Is CETA's Investor Court System really something to worry about?
YES!
As of 2018, govts had paid out $88 billion to corporations resulting from investor court rulings.
https://10isdsstories.org/isds-primer/
Can governments sue corporations through CETA's Investor Court System?

NO!

ICS is a one-way judicial system that could enable companies to try to pursue lawsuits against states to protect their profits.

States cannot hold companies accountable through these courts.
There is no compelling argument to ratify CETA. We call upon the Irish Government -
@FineGael
@fiannafailparty
- but especially the
@greenparty_ie
who campaigned so passionately against CETA while in opposition:
#stopCETA
!!
Full list of sources & more info at the link in bio.