Omkar Prasad Nayyar or more popularly O.P.Nayyar, a man who was stubbornly individualistic, arrogant, who laid his own rules, and lived life on his own terms. A man whose tunes embellished many of those hill station romances which dotted Bollywood in the 60's.
And much before Junglee and Yahoo, OP Nayyar, was the one who gave Shammi Kapoor a new lease of life, when he crooned "Tumsa Nahin Dekha".

Tumsa Nahin Dekha had another superhit song from OP too. The album was a chartbuster, put Shammi Kapoor on the road to stardom, after a series of flops.


And yes O.P.Nayyar achieved all this without even a single song by Lata Mangeshkar in his repertory. I guess it was more due to the fact he felt Lata was not really suited to his style of composition. Even otherwise was one big risk.
Also much a die hard fan of Lata here but there are some songs and compositions, where she does not really fit in well. And OP felt more comfortable with Asha and Geeta Dutt.
Or maybe that was OP's way, he never had great regard for reputation. It's because of this, maybe, that he was not consistently seen in big banners or very few directors repeated him.
m. This when he gave some of the most memorable scores for them. Raj Khosla being one of them. Raj teamed up with O.P.Nayyar for movie Ek Musafir Ek Haseena.And what a score it was from the wonderful Asha-Rafi duet Bahut Shukriya Badi Meharbani.
Shakti Samanta made many memorable musical hits like An Evening in Paris, Aaradhana, Kati Patang, but nothing to rival Kashmir Ki Kali, for it's sheer energy, boundless enthusiasm and variety. All the songs were great, but this is a personal favorite.
And then when B.R.Chopra who normally used Ravi for his movies, asked O.P. Nayyar, to score for his movie Naya Daur, the result was nothing less than outstanding. Maang Ke Saath Tumhara which contains OP's trademark tonga beat.
Yet neither Raj Khosla nor Shakti Samanta nor B.R.Chopra worked with him after that. Was it because of his high remuneration? He was one of the few music directors in those days who charged more than a lakh per movie.
One of the few directors who used his talent in a large number of movies was Guru Dutt. After a series of duds, it was Guru Dutt who gave OP his first major hit in the 1954 crime thriller Aar Paar.

And this time it was OP's favorite singer Geeta Dutt who crooned her way to Babuji Dheere Chalna, a song which remains popular even today, and is a favorite with any contestant in a singing competition.

In 1956 came CID, directed by Guru Dutt's protégé Raj Khosla and produced by Dutt himself. This crime thriller starring Dev Anand was an instant hit and the album a memorable masterpiece.

"Aaiye Meherbaan" from the 50's crime thriller Howrah Bridge. Watch this song , Madhubala with her drop dead gorgeous look. Tough to resist.
The very seductive Yeh Hai Reshmi Zulfon ka Andhera from Mere Sanam, Asha at her best. Ruined by Biswajeet's rather wooden acting though.

For a man with limited musical education, the way OP used the musical instruments in his songs was nothing short of awesome. Listen to the opening interludes of "Pukarta Chala Hoon".

Or the piano tune in Aap Ki Haseen Rukh Pe from Baharen Phir Bhi Aayengi, which would be among my OP Top 10 anyday.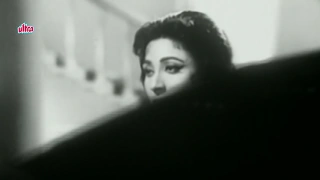 Or the piano once again in Dil Ki Aawaz Bhi Sun.
And a typical Punjabi number from Kashmir Ki Kali.
And the wonderful guitar interludes in "Laakhon Hai Nigahon Mein". O.P.Nayyar was a man much ahead of his times.
The same guitar beat for Laakhon Hai Yaha Dilwale. Ok just ignore Biswajeet using the guitar like an AK-47 here.
Om Prakash Nayyar or OP Saab, a man who lived life on his own terms. This is a rather humble fanboy tribute from someone who loved his songs.