Hey fam, today we're talking CONTROL, COMPLIANCE, and ADHERENCE in diabetes management: an
#NDAM
thread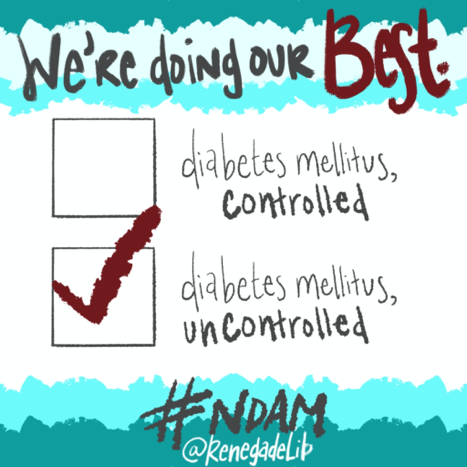 People with diabetes, from the time of diagnosis on, get bombarded with questions like, "How do you control your blood sugar?" and "is that [a blood sugar reading] good? is that bad?"
(
#T1D
,
#T2D
,
#LADA
fam–– chime in here! help me gather examples)
2/
Even worse than those questions are the instances in which we're dehumanized by medicine. We're called "noncompliant" or "nonadherent," both of which refer to a collection of assumptions:
––that we know how to manage our health (so, so many people receive subpar care...
3/
...including folks with T2 and
#BIPOC
)
––that we have ALL THE TOOLS to manage our health, like health insurance, $$ for insulin and supplies, access to fresh produce and other healthy foods, etc.
––that we have the SUPPORT to manage our health; many spouses, parents...
4/
...friends, employers, and teachers do not make any effort to accommodate diabetes.
––&finally, that because we have total access to knowledge, tools, and support, if our health is out of wack it's because we're LAZY or APATHETIC.
5/
When medicine calls us "nonadherent/compliant" they're quietly calling us lazy, apathetic, and morally bankrupt for failing to manage our health better.

Moral judgement based on assumed agency/ dominion over one's body has a name––healthism–– and it saturates endocrinology.
6/
Current diabetes care hangs on "self-management:" the ability to control blood sugar through insulin dosages, nutrition, and exercise. "Good" self-management means "good" control and "adherence" or "compliance." Bad means the inverse.

Thing is, diabetes isn't controllable.
7/
Internally, we deal with stuff like glucotoxicity, where our bodies LITERALLY STOP USING INSULIN CORRECTLY FOR A HOT MINUTE.
Externally, we deal with
#unemployment
that creates lapses in health insurance. We live in imperfect homes, full of imperfect people.
9/
We work in imperfect,
#ableist
and
#racist
and
#sexist
spaces. Those spaces cause us stress, and that screws with our health.
We live beneath the poverty line, and still fight for
#insulin4all
while we ration.
We live in food deserts and subsist on processed food.
10/
Notions of compliance, adherence, and control our context. The expectations they represent are based on the BEST CASE SCENARIO (read: privilege).

&any less than perfect and medicine calls our health uncontrolled, us noncompliant or nonadherent.
11/
When our doctors think we CHOOSE to feel nauseated all the time, they tell us they're not safe, that we can't be fallible with them––&truthfully, that's the worst part of the whole linguistic tic.

Bc if we have to battle insurance, or a pharmacy, who do we HAVE to turn to?
12/
Medicine–– endocrinology, etc.–– have made themselves our emotional abusers by labeling us noncompliant.
We need them for us to stay alive, we need their help
&bc we need them, they can treat us however they want.
&they've made us the villains in our own
#diabetes
stories.
/end