1/ George Soros has pledged $1 billion to stop "nationalism" in response to the people of India finally ousting a family dynasty political party with a resounding majority vote for Modi twice. The Congress Party led India down a path of decades of religions extremism & corruption
2/ India is home to the oldest continuous civilization on our planet, that of Sanatan Dharma & Vedic tradition of Hinduism & other Dharmic faiths Buddhism, Jainism & Sikhism. But some have vested interested in India. People with huge capital investments in agenda driven projects.
3/ One vested interests is the Catholic Church & multiple Christian churches & organizations. They invest billions in India every year. The reason, Christianity has one big project they feel they must complete, stamp out polytheism wherever it exists. Their "unfinished task".
4/ Christians feel it is their mission to end Hinduism & convert Hindus. It's 2020, Christians still see it as their duty to convert the "heathens" the polytheists & pagans. They're open about it. You can find multiple examples of Christians demonizing Hinduism, even in schools.
5/ Then we have Islam. Islam created more death & destruction for Hindus than anything else. Through Islamic invasion, some 80 million Hindus were slaughtered. Thousands of Temples destroyed, schools & universities burned, ancient texts lost, human history erased.
8/ 1947 where the entire homeland of all Dharmic faiths was ripped apart for Islam. Why? Muslims could not accept their Hindu brothers & sisters & fellow human beings & demanded freedom from Hindus. Approx 2 million died in that bloody partition. What if it was your country?
9/ India was divided, Pakistan & East Pakistan for Islam & India for all. But in India they crafted a constitution with broken secularism catering to Islam & Christianity. Muslims broke India for Islam, but many muslims stayed in India. Today in protests they call to do it again.
10/ 1971, East Pakistan, went to war w/ Pakistan. Pakistan Army launched Operation Searchlight. The mission kill Hindus still living in East Pakistan. 2 million Hindus were slaughtered, countless women raped, and approx 10 million fled to India as refugees to escape death.
11/ 1971-1990, the focus now shifts to Kashmir where Pakistan is infiltrating & instigating Islamic terrorism & starting separatists movements. Pakistan wants Kashmir & they want Hindus out. They want to break India again for Islam. Kashmir is ancient Hindu homeland.
13/ These are just some of the major events of persecution and genocide against Hindus in India by Islam, There are many more, genocides & riots. Because of corrupt politics in India, when riots did happen against Hindus, they were historically blamed on Hindus. Appeasement.
15/ The world stays silent, no demand the killing & persecution of Hindus stop. Instead, they made Muslims victims. Most Muslims & Christians vote left, left political parties protect their votes by appeasement. The Persecution & Killing of Hindus in South Asia continues.
16/ This chart shows which groups cause violence & killings. The media will have you believe it's Hindus, it's not. It is Islam, Christianity & Communism. Yes, even Christians. They have a separatist movement trying to break off a chunk of India for themselves called Nagaland.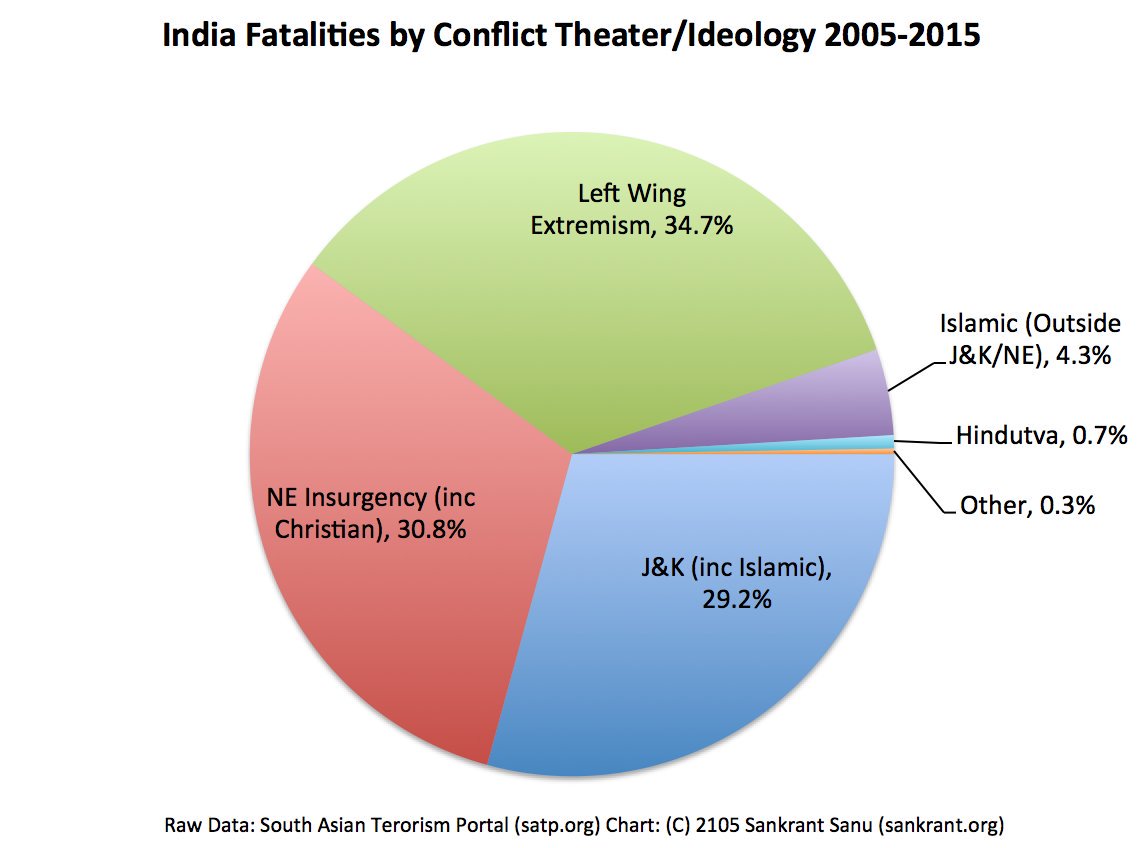 17/ Soros & others like him align with the Democrats in the U.S. These same Democrats, also align with Islam, Pakistan & that family dynasty political party in India, the Congress Party. Soros is just one of the monied interests that play a part in actions like this.
18/ Media, Hollywood, all aligned w/ Democrats play a part. They spread propaganda against the victims of centuries of persecution & genocide at the hands of followers of Islam. The same ones who can't live with Hindus & shattered Hindus homeland. Ones that call to do it again.
19/ Soros & those like him are financial backers of the Democrats & their political movements & agendas, even in foreign countries, to effect change, even regime change. Internal rebellion, chaos, riots and revolution. Now they do it in America.
20/ Soros is financially backing chaos in India & he did so in Ukraine and multiple other countries. He was active in Ukraine, and the Ukrainian government launched an investigation into his activities but they hit a road block . . .
22/ The Democrats want back into power. We have chaos on the streets. Same kind of chaos you see in other countries like India, Ukraine & many more when Soros is "helping" the left into power. I'm a lifelong Democrat, but I can no longer vote for them. They have gone too far.
23/ Back to India. Countries that currently spread propaganda against India through their media & left political parties. United States, United Kingdom, Canada, Australia, Pakistan, Bangladesh, Qatar, Saudi Arabia, Turkey, Iran, Afghanistan and many others. "It's a big club. . ."
24/ You'll see a trend here. The propaganda is coming from the left political parties & media in India & in western nations as well as from Islamic States, Nations and Islamic Republics & their media. Pretty much the entire nation of Islam.
25/ There is something called a red/green axis. This is real. This is an alliance between leftists/socialists/marxists so left political parties and Islam. It has become a part of every western nation. It has been a part of India for decades and you see the chaos India has faced
26/ So the next time you see that media demonizing India, Modi, Hindus, Hindu Nationals, Hindutva. Ask yourself. Is this real or is this propaganda for political/religious agendas. I guarantee it will be the later. I have seen far too many examples.
27/ In propaganda against India they claim fascism, Nazi, Hitler. The Germans/Nazis were Christians, but Hitler admired Islam considering Christians weak. One of Hitlers biggest admirers was those following Islam. They loved Hitlers solution for the Jews.
https://twitter.com/Aabhas24/status/1162326340885864448
28/ Ask yourself. After over 2,000 years of Abrahamic faiths of Islam & Christianity persecuting & or killing our fellow human beings over religion, do you want it to continue. Do you care enough for your fellow human beings to speak up? Where is humanity?
https://twitter.com/MycoJonathan/status/1274712669287677952