Books Sam has read in 2020: a thread. Hopefully. I always start this kind of thing with the best of intentions and then by February it is forgotten. But I am nothing if not eternally optimistic, so here we go
1. I started 2020 with a gimme. Mum has been giving me Doctor Who annuals for Christmas for as long as I can remember. Amidst the perfunctory filler was a surprisingly insightful and caring short story by Dave Rudder, so it was worth the time. Thanks Mum.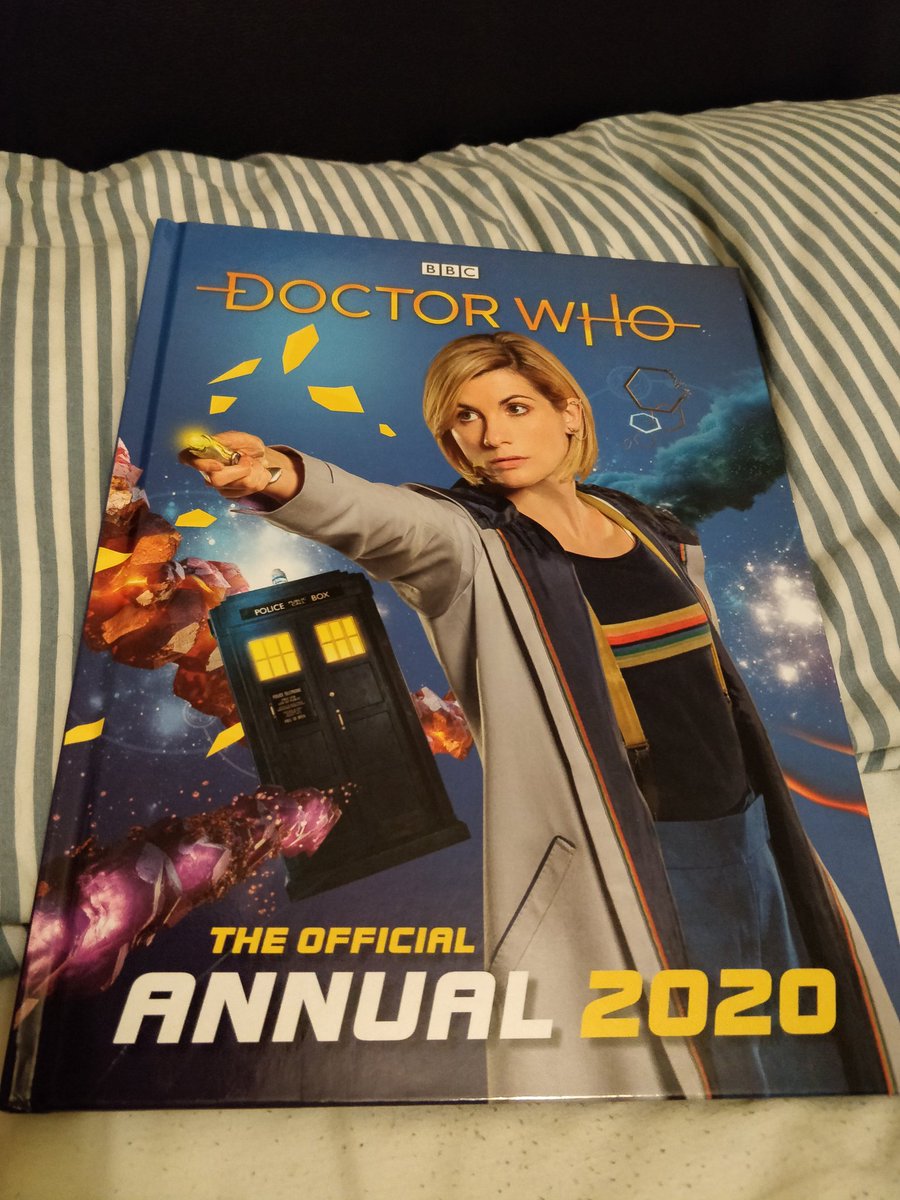 2. The Topeka School by Ben Lerner. A dizzying, richly tapestried piece of fiction, full of ideas and imagery that build, and grow, and get recontextualised to enormous effect. Beautiful passages on infatuation, a charge that isn't there until it is. But mostly, about this. Oh.

3. Decline And Fail by
@JohnJCrace
, an exceptional parliamentary sketchwriter. A collection of columns from March 2018 to July 2019, it harkens back to the simpler times of Theresa May, an exercise in distressing nostalgia. "At times like these, only oblivion will do"
4. Someone Who Will Love You In All Your Damaged Glory by
@RaphaelBW
. *Very* much my jam. Short stories about love which are darkly funny, melancholic, and cause pangs of profound recognition that kick you in the chest until you think you may never stand on solid ground again.
5. I'm A Joke And So Are You by
@robinince
- an excellent and compassionate book about what it means to be human and what it means to do stand up. Ideal for the comedian with a tendency to overthink things to a crippling degree in your life. If you have one of those.
6. The Boy, The Mole, The Fox And The Horse by
@charliemackesy
- a kind, sentimental book that some will sniff at. I needed this right now, so not I. The illustrations are beautiful. Reminiscent of Winnie the Pooh and a bit of Calvin & Hobbes, so I'm in. I'm glad we are all here.
7. There Will Be No Quiet by
@StanleyDonwood
- a spiralling journey through obsessions with trees, nuclear weapons, and the transformation of the internet by one of my favourite artists, filled with 20 odd years of his work. An excellent tome.
8. Only Human by Sylvain Neuvel - for better or worse, the third in the trilogy goes way more political. Sometimes to good effect, occasionally not, which makes you miss the pulpier origins (that image of a girl in a robot's hand...). Nonetheless, a satisfying conclusion.
9. This Is How You Lose The Time War by Amal El-Mohtar & Max Gladstone - love me a good conceit and this one was beautiful. The time-travelling nature of letters; the long, slow act of coming to know someone intimately; the fear of opening yourself up, of earnestness. All here.
10. Interior Chinatown by
@charles_yu
- one of my favourite short story writers (read Sorry Please Thank You, itself subtly name checked here), a novel about Asian identity, belonging, & the roles you're allowed to and allow yourself to play, in his inimitable storytelling style.
11. Convenience Store Woman by Sayaka Murata - I'll let the plot reveal itself, but an acutely observed novel with a protagonist who is, very occasionally, uncomfortably recognisable. I initially read it differently to most, but think I came round to consensus view, reluctantly.
12. Dead Children Playing by Stanley Donwood and Dr. Tchock - a brief collection of Radiohead's artwork from OK Computer to Hail To The Thief, with even briefer explanations
13. Bad Island by
@StanleyDonwood
- a story without words, a stark tale of our past and future featuring many of Mr Donwood's hallmarks - the tendrils, the rolling seas, the shadowy figures hidden by trees, and of course, impending doom.
14. Novacene by James Lovelock - I mean, the man is a crank who believes the Earth is a single living organism and that AI will keep us alive to maintain oxygen levels. But a few interesting ideas dotted around the rot.
15. An Illustrated Book of Bad Arguments by Ali Almossawi - a guide to logical fallacies which unfortunately falls down on its illustrations - delightful, but often muddy the things they're meant to be clarifying. Still, the text is good and cites Stewart Lee as an example so hey
16. Seconds by Bryan Lee O'Malley - never read Scott Pilgrim (but hold the film dear to me), but Seconds is top notch. Beautiful in art, beautiful in story. Second chances, the things you can't change, the danger of trying to make things perfect, and some delicious looking food.
17. XO by Matthew LeMay - the 33 1/3 entry for my favourite albums. Digs deep into Elliott Smith's lyrics, the process of imperfect perfection, and the dichotomy between writing something that sounds personal but isn't. Useful reading for me atm
18. A Horse Walks Into A Bar by David Grossman - I don't know much about Israeli stand up, but if a comedian using stagetime for therapy and getting angry with the crowd for not laughing is unusual to Grossman, he needs to go to more Edinburgh previews in February.
19. Apropos Of Nothing by Woody Allen - Twitter is obviously not the place to get into things, but a modest, engaging, and at times understandably defensive memoir from a singular voice in cinema. So absolutely him.
20. Strange Hotel by Eimear McBride - big fan of this. McBride captures the way we subtly change in the passing of time, the way we challenge our interior monologues, the things we try to push down, in prose that offers no easy answers but a satisfying set of clues to grapple.
21. No One Is Too Small To Make A Difference by Greta Thunberg - succinctly and persuasively argues that which shouldn't need to be argued. Almost everything is black and white
22. A Gentleman In Moscow by Amor Towes - like its titular character, it possesses a charm and amiability that belies the hard work hidden to achieve it and the dedication to such an ideal. An absolute delight and pleasure to read.
23. The White Book by Han Kang - a devastating and poetic take on the complexity of grief, how we carry it with us, and how we let it shape us. "If she believes that she has never been shattered, she can believe that she will be shattered no more"
24. Outline by Rachel Cusk - "a novel in 10 conversations", deftly explores how we define ourselves through stories (a standing obsession of mine), reaching great depth and insight without losing sight of plot or character (ahem, Before... trilogy) and always eminently readable
25. If On A Winter's Night A Traveller by Italo Calvino - dizzying metafiction that so greatly understands the depth and importance of a love of books, the relationship between book and reader, and reader and other reader. Of beginnings that need no middle or ending
26. Poorly Drawn Lines by Reza Farazmand - a sweet collection of oddly charming comics and essays which could be compared favourably to the BoJack Horseman school of thought
27. Fascination by William Boyd - a perfectly fine collection of short stories about "love, desire, and emotional incompetence" (sound familiar?), but nothing outstanding or formally daring, nothing that really hit home
28. Revolution In The Head by Ian MacDonald - for a man who's written a 500 page book going into great detail about The Beatles, he doesn't appear to either like them or find them that interesting. Sniffy and fuddy duddy views and opinions presented as fact undermine it massively
29. The Last Day by Andrew Hunter Murray - I like AHM and was excited for his debut, so this was disappointing. A compelling plot and an interesting idea weighed down by clunky and pedestrian prose with no room for nuance, subtext, or faith in the reader. A real shame.
30. Mr Salary by Sally Rooney - no, I haven't had time to watch Normal People yet, believe me you'll know when I have. But the way she captures the ineffable spark and dynamics between two people, even in this short piece, is why I and seemingly the whole world are enthralled.
31. How To Watch A Movie by David Thomson - eh. I get what Thomson was trying to do, but why try to do it? Discursive arguments with no point to be made, and a long-winded way of writing about cinema in a way which doesn't exactly seem interesting in cinema.
32. Exciting Times by Naoise Dolan - instantly one of my favourite books this year. The inevitable Sally Rooney comparisons are understandable but they don't do Dolan justice - this is its own immaculately observed and incisive beast. Deeply touching and drily witty. Delightful.
33. Kitchen Confidential by Anthony Bourdain - I really, *really* miss restaurants, and Bourdain's evocative if occasionally unnecessarily testosterone fuelled account of a life in the kitchens has both comforted and reminded me of what I'm missing.
34. Why I'm No Longer Talking to White People About Race by Reni Eddo-Lodge - because, obviously. An important book without ever trying to be an Important Book. At its best when just laying out the cold hard facts and figures. It is, of course, undeniable. Yet still they try.
35. Taking Up Space by Chelsea Kwakye & Ode Ogunbiyi - excellent and engaging accounts of university life as young black women - a lot chimed with my experience of uni and mental health, I can only imagine how much harder that must be with the weights I'm lucky enough to not feel
36. Artemis Fowl by Eoin Colfer (re-read) - I watched the absolute shitshow of a film last night, and needed to convince myself that I hadn't been mis-remembering every single character and plot detail from the book. Re-read this morning. I hadn't. What a mess.
37. A Heartbreaking Work Of Staggering Genius by Dave Eggers - it certainly lives up to those three very weighty adjectives, or at least the contextual definition that someone like me might attach to those words. A remarkable achievement
38. The Future Of Another Timeline by
@Annaleen
- oh boy I've been slacking, but this is brilliant. Long been a fan of Annalee and this is absolutely why. So precisely written and with such care for her characters. Practically cheered numerous times towards the end. Wonderful
39. How To Be Both by Ali Smith - the first half is exceptional, the second half is a touch too affected, but contains much insight and some excellent writing. Beautifully done, though
40. Some Kids I Taught And What They Taught Me by
@KateClanchy1
- long been fascinated by what it means to be a teacher (thanks, Mum), and this does an excellent job putting it into words. Genuinely inspiring, and the piece on the distinction between poetry and therapy, v my bag.
41. Homes And Experiences by Liam Williams (
@funnylad5
) - long been a fan of LW, continuing with this fine debut. The impact of Airbnb, what millenial meaning might be, and how do we find it amongst our actual lives. Sharp and heartfelt. (And love the author cameo at the end)